Beets are plentiful at the local farmer's markets right now, and they also happen to be a nutritional powerhouse! I know not everyone loves the sweet, earthy flavor of roasted beets as a side dish, so this creamy dip is a great way to get in the benefits of beets in a very palatable way.
Beets are a fantastic fertility food because they contain natural nitrates, which the body converts into nitric oxide. Nitric oxide promotes blood flow, which is great for everyone, but especially helpful for those wanting to increase blood flow to the reproductive organs. Factor in the high folate content, incredible antioxidant properties, and anti-inflammatory benefits, beets definitely deserve a place in your preconception & fertility meal plan.
It's also worth noting that beets support the body's natural detoxification process. The phytonutrient that gives beets their deep red pigment, called betalain, not only protects cells and organs from oxidative damage, it also supports a detoxification process in the liver whereby toxins are neutralized and excreted from the body.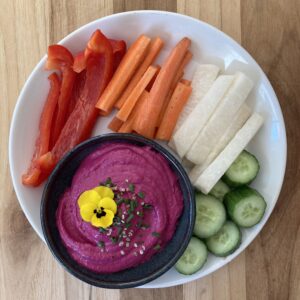 Balsamic Beet Dip Recipe
Ingredients:
¼ cup extra virgin olive oil
1 lemon (juice & zest)
2 tbsp balsamic vinegar (divided)
½ cup sunflower seeds (raw, soaked in water overnight, drained & rinsed)
¼ cup cashew nuts (raw, soaked in water overnight, drained & rinsed)
½ cup hemp seeds
¼ cup fresh dill (loosely packed)
1 teaspoon garlic powder
1 teaspoon onion powder
1 large beet (approx. 1 ½ cups), peeled & cubed
1 tablespoon coconut oil or ghee
1 teaspoon unrefined salt, divided
1 teaspoon fresh ground black pepper, divided
Directions:
Preheat the oven to 375 F while peeling and chopping the beet.
Place the beets, coconut oil or ghee, 1 tablespoon balsamic vinegar, ½ teaspoon each salt & black pepper, and a splash of water in a baking dish and place in the pre-heated oven. About 10 minutes into baking, once the coconut oil or ghee has melted, take the dish out and stir well to combine. Place back in the oven and bake for approximately 30-45 minutes, until they've softened.
Once the beets have cooled enough to touch, place them in a high powered blender or food processor along with all the other ingredients (place the liquids in the blender first) and blend until smooth. Add a bit of water or more olive oil if needed to thin it out.
Serve with veggie sticks, crackers, pita wedges, or use a sandwich spread.